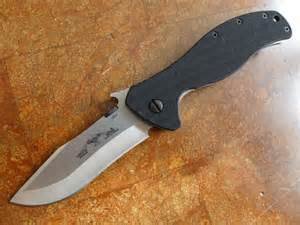 Emerson Mini CQC-15SF
Emerson Knives describes this item as follows:

This is (a great) knife design to hit the streets and its hit running at full speed. This is an amazing little knife. Everyone who has seen it has said virtually the same thing, "I gotta get one of those." I agree. I think you will too. These are bound to be one of the years absolute best knives. It has all the speed, strength and cutting power of its full sized brother but in a compact, pocket size. See for yourself.

The Mini-CQC-15 folding knife features our Patented "wave shaped opening feature" or Remote Pocket Opener. In an emergency or injury situation the knife can be opened with one hand as it is drawn from the pocket.


Features
Handles: Black G-10 epoxy / glass laminate
Lock:Aerospace grade Titanium
Blade: 154 CM
Finish: Stonewash
Grind: Conventional V Grind
Specifications
Overall Length: 8.0 in.
Blade Length: 3.5 in.
Blade Thickness: 0.125 in.
Hardness: 57-59 RC
Made in USA