Hinderer Half Track Ti WF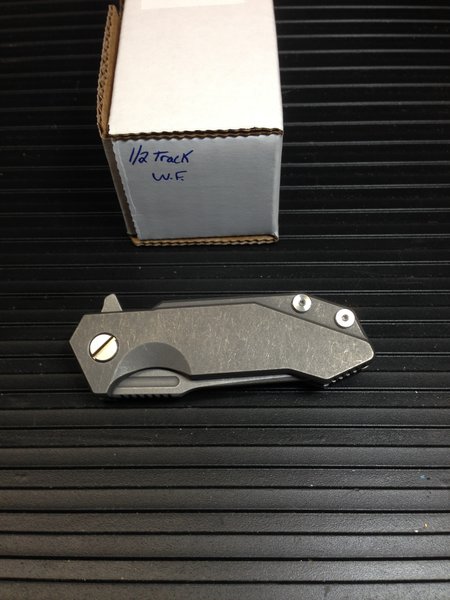 Hinderer Half Track Ti WF
Combining classic style with modern craftsmanship, Rick Hinderer Knives introduces their new Half Track tactical flipper. Sporting a handle of rugged working finish titanium along with a durable CPM S35VN working finish stainless steel blade, this knife is both beautiful to look at and reliable to work with. The Hinderer Half Track folder is an American-made, high quality product that should get knife users, collectors, and enthusiasts excited.

The blade of the Half Track is made of S35VN stainless steel that has their working finish for added durability and toughness. The CPM process provides an even distribution of carbides for both edge retention and toughness. This high quality steel means a sharpened blade will keep its edge, and won't disappoint when you need it. The classic blade has a working finish.

The Half Track is a compact 4" when closed with a 3" blade. Compact and portable, this knife is equipped with both a titanium pocket clip and spacer pins. With a weight of 5.3 oz. the Rick Hinderer Half Track is a great pick for every day carry. The titanium handle, which has a machined handle scale on both sides as well as a flipper for convenient right or left hand operation. Flipper serves as an index finger guard in the open position. The knife is also equipped with a Rick Hinderer framelock and lock bar stabilizer to help ensure your Half Track stays open and locked, when you want it to. The working finish titanium pocket clip is mounted blade tip up.
This knife has all of the edge smooth and rounded for the ultimate in carry.

If you need a quality American-made knife that is dependable and stunning, look no further than Rick Hinderer's new Half Track tactical folding knife. It's the perfect balance of stability, beauty, and durability.

MAKER: Rick Hinderer Knives
BLADE SIZE: 3"
TOTAL SIZE: 6 3/4"
CLOSED SIZE: 4"
BLADE MATERIAL: Stainless S35-VN Steel - Working finish - HRC 60-61
HANDLE: Titanium - Working finish Finish - smooth
WEIGHT: 4.3 oz.