Hinderer XM-18 3.5" Battle Black Black Bowie w/bronze clip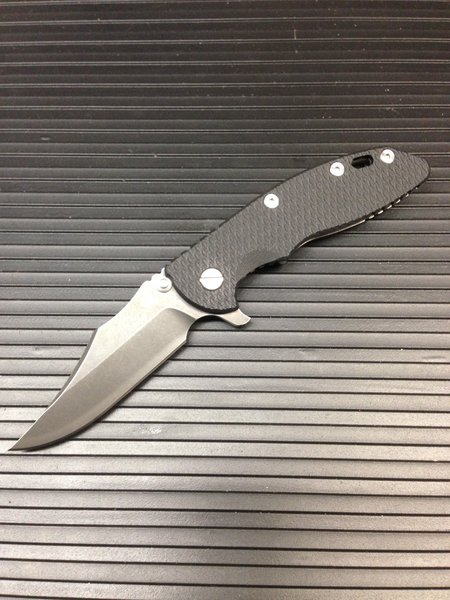 Hinderer XM-18 3.5" Battle Black Black Bowie w/bronze clip
Razor sharp Rick Hinderer Gen 4 Model XM-18 3 1/2" folding knife in textured Black G-10. Lanyard hole in the handle. Dual thumb studs as well as a flipper for easy right or left hand operation. Flipper serves as an index finger guard in the open position. Bowie grind on the stainless CPM-S35VN blade with Black DLC Battle finish. Lock side is titanium with dull working finish. Jimping on the thumb rest on the handle and blade spine for a secure grip. Bronze anodized Titanium pocket clip can be mounted blade tip up or tip down. Bronze filler tab also on this one. Solid frame lock design. Smooth opening and closing. Great heavy use XM-18 tactical folding knife from Rick Hinderer, bowie grind is AWESOME!
MAKER: Rick Hinderer Knives
BLADE SIZE: 3 1/2"
TOTAL SIZE: 8 1/4"
CLOSED SIZE: 5"
BLADE MATERIAL: Stainless CPM-S35-VN Steel - Black DLC Battle finish
HANDLE: Titanium -Working Finish - Textured Black G-10
WEIGHT: 5.4 oz.