Hinderer XM-18 3.5" Fatty Wharncliffe Sand/blue SW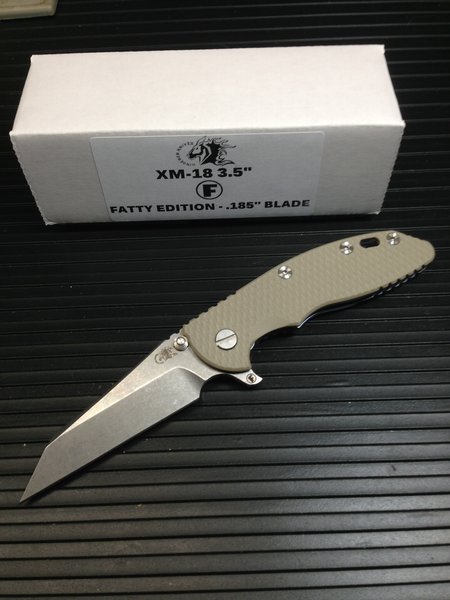 Hinderer XM-18 3.5" Fatty Wharncliffe Sand/blue SW
The XM-18 Fatty 3.5 inch is just what it sounds like: a fat version of the normal XM-18 3.5 inch. The Fatty blade is 0.185 inch thick, 0.02 inch thicker than a standard XM-18 3.5 inch blade (0.165 inch). Hinderer makes it all work by using a combination of standard XM-18 3.5 inch hardware, XM-24 hardware, and some parts just for the Fatty. If you are looking to get some new parts to swap out to customize the Fatty, the part break down is:

Fatty Pivot Screw = Standard XM-18 3.5 inch
Fatty Scale Screws = Standard XM-18 3.5 inch
Fatty Standoffs = XM-24
Fatty Handle Nuts are unique to the Fatty


The Blade: The Wharncliffe profile is a favorite. The straight, devastatingly sharp edge will make short work of whatever you put it up against! Stone wash finish S35VN steel with the circle "F" mark on the flipper tab designating it as a Fatty.
The Frame: Titanium frame has a blue anodized finish. XM textured scale in sand color G10.

About the XM-18: The XM-18 is the combination of over 25 years of knife making craftsmanship combined with modern CAD design and CNC technology. The result is a folder that performs like a fixed blade that has become one of the benchmarks in the hard use folder category. Built in Rick Hinderer's shop in small numbers to ensure quality. Framelock side features the patented Hinderer Lockbar Stabilizer (LBS) which prevents over torquing of the lockbar which can happen under stress (especially when using gloves). Due to precision tolerances and strict quality control, the scales, screws, pivot screw, standoffs, etc. are available separately and can be changed by the user to change the look to individual taste.
Specifications:
Overall Length: 8.25 in
Blade Length: 3.5 in
Cutting Edge: 3.16 in
Blade Thickness: .185 in
Closed Length: 4.72 in
Handle Material: Titanium and G-10