Hinderer XM-18 3.5" Orange Skinner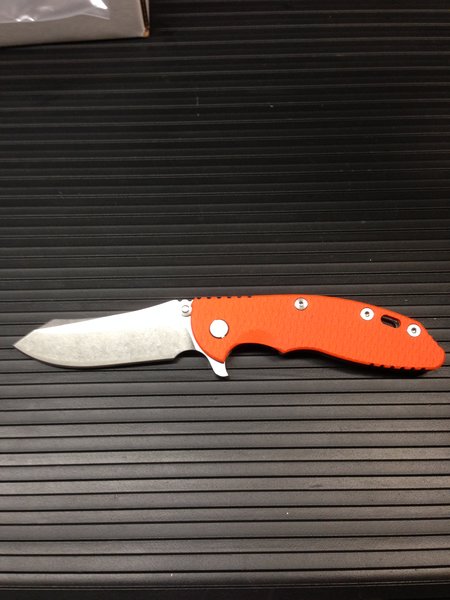 Hinderer XM-18 3.5" Orange Skinner
Razor sharp Rick Hinderer Gen 4 Model XM-18 3 1/2" folding knife in textured Orange G-10 and stonewashed titanium. Lanyard hole in the handle. Dual thumb studs as well as a flipper for easy right or left hand operation. Flipper serves as an index finger guard in the open position. Skinner grind on the stainless CPM-S35VN blade. Jimping on the thumb rest on the handle and blade spine for a secure grip. Titanium pocket clip can be mounted blade tip up or tip down. Solid frame lock design. Smooth opening and closing. Great heavy use XM-18 tactical folding knife from Rick Hinderer in his skinner blade. This blade excels in slicing and cutting ability. Great all around blade with a very strong tip.
MAKER: Rick Hinderer Knives
BLADE SIZE: 3 1/2"
TOTAL SIZE: 8 1/4"
CLOSED SIZE: 5"
BLADE MATERIAL: Stainless CPM-S35-VN Steel - Stone Washed Finish - Skinner Grind
HANDLE: Titanium - Stone Washed - Orange G-10
WEIGHT: 5.4 oz.