Winkler Knives II Belt Knife Sculpted Maple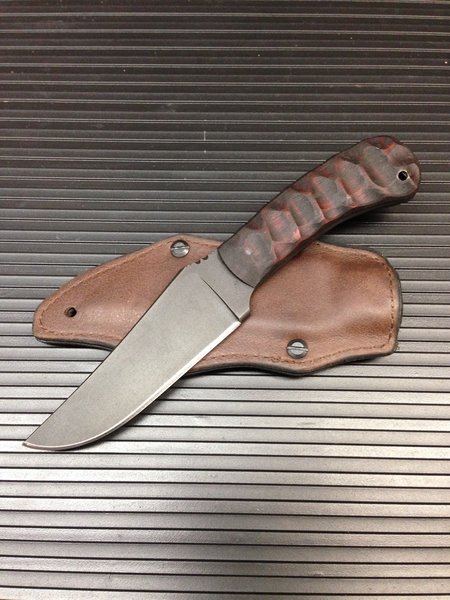 Winkler Knives II Belt Knife Sculpted Maple
Maker: Daniel Winkler

Blade length: 4.80 in.
Total length: 9.00 in.
Blade width: 1.60 in.
Blade thickness: 0.20 in.
Item weight: 6.96 oz.
Shipment weight: 15.84 oz.
Blade: 80CRV2 carbon steel with a Caswell non-reflective finish
Handle: Sculpted maple set on a full, distal tapered tang
Sheath: Ambidextrous leather covered Kydex sheath
Style: Fixed blade
Description: Mastersmith Daniel Winkler created the Winkler II line in 2010. It is an alternate approach to an established tradition. Winkler Knives II is the result of processes Daniel Winkler developed over the past few years in order to provide axes and knives to teams within United States Army Special Operations and US Naval Special Warfare. Each piece in this collection bears the Winkler Knives II touchmark.
This knife is very similar to the standard issue model Daniel Winkler is currently providing to active duty SEALs within the Naval Special Warfare Unit. The blade is formed from 3/16" 52100 carbon steel with a non-glare Caswell finish. A full tapered tang means great balance and reduced weight. The hand sculpted slip-resistant maple wood handle is set on the full tapered tang. A hole in the pommel allows for a lanyard to be attached for added security.
The versatile Kydex lined leather sheath can be worn vertically or horizontally for right- or left-hand draw with simple adjustments and features a felt liner to reduce noise signature when drawn.

4 7/8" blade of 80CRV2 carbon steel, 9 1/8" overall length
Thumb notched blade spine
Caswell no-glare finish
Sculpted maple scales
Tapered tang
Thong hole
With a leather covered Kydex sheath
This is a new knife, direct from the maker