Treeman Combat Hunter Brown/black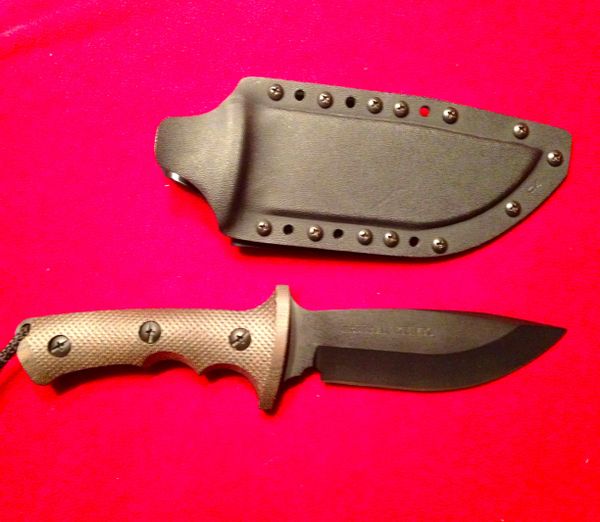 Treeman Combat Hunter Brown/black
Treeman Tactical Knives are handmade by Jim Behring. They are hand ground from 01 tool steel. His knives have an excellent feel and balance.
Description from Treeman Tactical:
Always buy the very best you can possibly afford . This is as good as it gets. American made one at a time. This Combat Hunter has a 5 1/2" blade from the front of the guard to the tip made from the very best USA O1 tool steel. This knife has the bake on high tech Cerakote bake on, rust proof finish that will hold up as good or better than any finish on any knife made to date. The blade is 56 RC and vacuum heat treated in a state of the art furnace, Perfect in every way. It will out cut and hold an edge as good as or better than any knife made. The blade thickness is a full .250. The handles are either G10 or canvas made micarta with a fine cross hatch checkering for a good grip. The overall length is about 11 with a thong hole and a fit and finish better than the best. Comes with either a high quality Mosher Made leather, Kydex or Spec Ops sheath . Priced to sell . It's a life time knife not some piece of crap from the discount catalog!
RC: 56
Blade: Black

Handle: Brown G-10
Sheath: Black Kydex