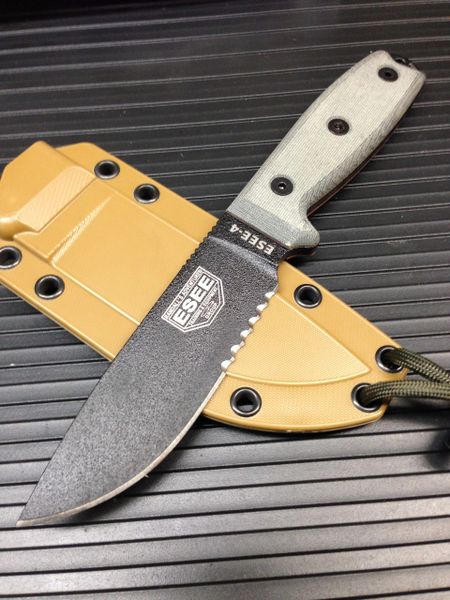 ESEE 4PS Coyote sheath
This is the longer, thicker "wilderness" model of the popular ESEE-3 tactical knife. With its 3/16" thickness, full flat grind, rounded pommel, Micarta handles and light weight, it can serve as a primary backpacking and wilderness survival knife, or fitted to your modular system for duty carry in a tactical environment.
ESEE-4P-S includes coyote tan molded sheath, clip plate.
These knives are made from high carbon 1095 steel. And while 1095 is a top choice for professional cutlery designed for hard use, it will rust and stain if not properly cared for - especially on the cutting edge and around the laser engraving. It is the user's responsibility to keep the blades properly lubricated and cleaned. We suggest using a dry film rust inhibitor such as TUF-GLIDE or TUF-CLOTH.
Specifications
O.A Length: 9.0"
Cutting Edge length: 4.06"
O.A. Blade Length: 4.5" partially serrated
Maximum thickness: 3/16"
Blade Width: 1.25"
Weight: 7.4 ounces (knife only)
1095 Steel - 57 Rc.
Serial Number On Pommel
Coyote molded sheath
Made in USA