Freeman Model 451 Chopper 6.5" D2 Black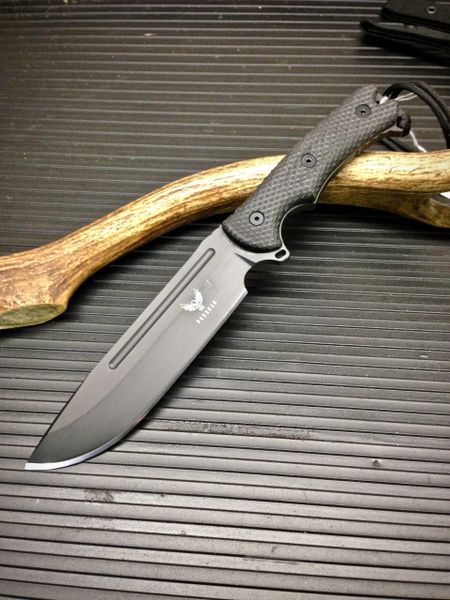 Freeman Model 451 Chopper 6.5" D2 Black
Introducing the Model 451 Chopper full-tang fixed blade field knife, designed and made by Freeman Outdoor Gear LLC.
The CerakoteTM coatedD2 tool steel drop point blade is .187" thick with just the right balance.
The exposed pommel with jimping acts as a flat hammering surface and includes a lanyard attachment hole sized for the included 550 cord lanyard.
The blade is heat treated and double tempered to a hardness of 58-60 Rc and the cutting edge is ground razor sharp at a 40 degree included angle (20 degrees per side).
The handle scales are CNC machined from tough G-10 with milled light diamond texture for a secure and comfortable grip. The handle shape provides an ergonomic and balanced grip for use in multiple positions. Enhanced parrot's beak pommel and lower front guard aid in blade retention during chopping. Stainless steel hardware locks all the components into place.
Included is a Spec-Ops Brand fabric sheath with thermoformed puncture-proof kydex lining.
This is a premium 100% US-made field knife designed to excel in multiple cutting chores under the most demanding conditions.
Specifications:
Knife Name: Model 451 Chopper
Designer: Jeff Freeman
Overall Length: 11.8"
Blade Length: 6.5"
Blade Thickness: 3/16"
Blade Steel: D2 Tool Steel
Blade Hardness: 58-60 HRC
Blade Style: Full-Tang Fixed Blade, Drop Point
Coating: CerakoteTM Ceramic Firearms Coating
Learn more about Cerakote Firearms Coatings here: http://www.cerakoteguncoatings.com/resources/files/testing/fullTechnicalReport.pdf
Handle Material: Machined G-10 or Canvas Micarta
Sheath Material: Spec-Ops Brand Basic Modular Sheath: http://www.specopsbrand.com/tactical-gear/fixed-blade-knife-sheaths/basic-modular-knife-sheath.html

Knife Weight: 0.66 LBS
Note from Jeff: Before joining the US Army, I worked for 5 seasons as a wildland firefighter based out of Sweet Home, Oregon. While there, I battled scores of wildfires throughout Oregon and the Western United States with a very skilled, hard-working and dedicated group of young men and women. My crew's radio dispatch call sign was "451".
I've named this knife family the "Model 451" in honor of those crew mates past and present that put it all on the line for the protection of our wildlands.