Hardcore Survival Bracelet Single Color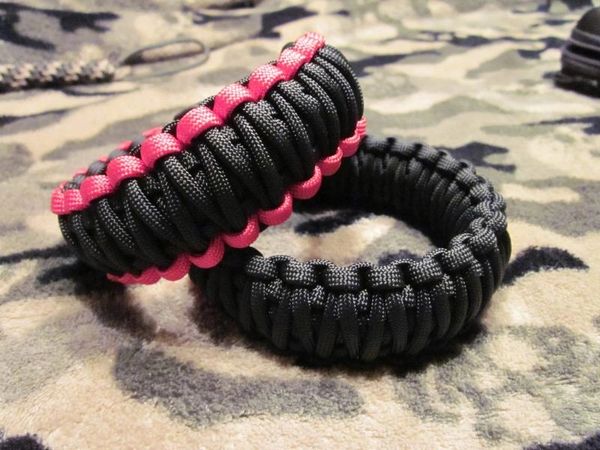 Hardcore Survival Bracelet Single Color
These bracelets are about 1" wide and 3/8" thick and use a 3/4" countoured fastex buckle. They contain a single piece of paracord over 20' in length. They are offered in a solid color of you choice or two tone. Note that the two tone has to be spliced, so you have two cords over 10' each. These are for the person who may need that amount of cord in a survival situation. Wearing one these bracelets and with one of our Firesteel Lanyards attached to your knife, keyring or pack gives you 30' of cord and the ability to start a fire which could be invaluable in a survival setting. Grey and black bracelet is a normal bracelet shown for comparison.

Most people prefer these a little loose when wearing them so keep that in mind when measuring your wrist. Also keep in mind that paracord will shrink some if it gets soaking wet. The most common wrist sizes for women are 6.5" and for men 7.5".
We custom make these bracelets by hand for each order. When ordering these please measure you wrist carefully per the instructions below and include the measurement and color you would like. Please note that these are custom made per order and that we do not offer refunds or exchanges for you ordering the incorrect size.
Sizing Instructions
Measure around your wrist where you wish to wear the bracelet with a piece of string. Make sure the string is just snug and not to tight or to loose. Measure this string on a tape measure or ruler and record that measurement. Do not add any extra for buckles or cord thickness, we do that when we make the bracelet. If you wish you may also use a cloth tape to do the measurement. If your size falls in between the sizes that we offer, order the next larger size.
Please take the time to measure your wrist and do not just guess at it, remember that we do not offer refunds or exchanges if you order the wrong size.