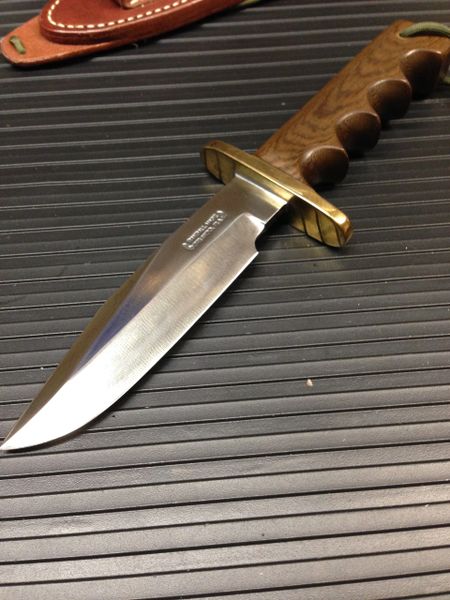 Randall Model 15
Description :
Top cutting edge sharpened. 4 1/2″ Green Micarta handle. Construction same as Model 14 except shorter blade. Comes with standard Black Micarta finger grip handle. (Green micarta handle material available upon request.) Single finger grip and Border Patrol shapes available at additional charge. Designed especially for air crew survival and combat purposes in cooperation with U.S. Marine Corps Equipment Board.
This knife is new direct from Randall Made knives.  The backlog is currently 5 years if you order one.  Randall knives have been proven in combat thru several wars and a proven design and very well made knife.  Forged from 01 Tool steel and handmade no two Randall's are exactly identical in every dimension.  These are highly prized by collectors and soldiers.
BLADE LENGTH: 5.5"
BLADE STOCK: 1/4" Forged 01 tool steel
HANDLE SHAPE:  Finger Grips
HANDLE MATERIAL: Green Micarta
HILT STYLE: Brass Double
WEIGHT: 10 oz.