RMJ Tactical Kestrel Feather Black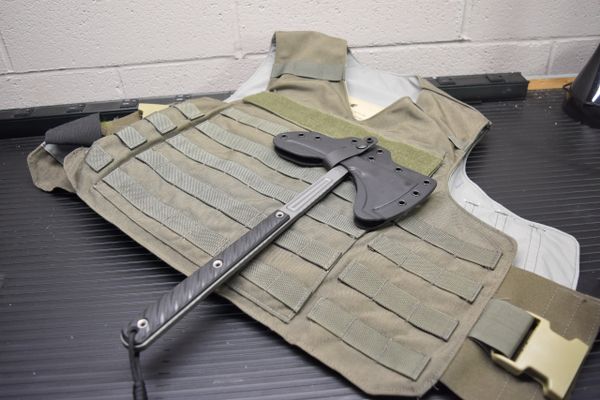 RMJ Tactical Kestrel Feather Black
RMJ Tactical builds knives and tomahawks for extreme use in the harshest environments on the planet.  They are combat tested by elite military units all over the world.  Because of the reputation they have obtained at being the toughest out there they are the bar against which others are measured.  If you find yourself in a bad situation in less than desirable circumstances these are the knives and hawks you want with you.  There are many reviews and videos on the net on their products.  When only the best will do and for people that know the difference.
The Kestral Feather is a lighter version of the Kestrel which was a smaller version of the original Eagle talon.  These hawks will get thru body armor, wood, sheet metal, cinder block, concrete etc. 


Lighter weight version of the Kestrel
Model:

Kestrel Feather

Length:

13"

Head:

Forward edge: 3"

Spike: 3"

Forward edge to spike: 7"

Steel:

1/4" oversized thickness billet machined 80CRV2 steel construction. 

Finish:

Tungsten Cerakote

Handle:

Full tang I-Beam handle design.

G-10 3D machined handle scales.

Handle Color(s):

Black 

Hyena Brown (Layered Earth/Black/Coyote)

Dirty Olive (Layered OD Green/Black)

Hardness:

Striking surfaces: 54 HRC

Neck and tang: 30 HRC

Weight:

19 oz w/o scabbard

24 oz w/ scabbard

Sheath:

Bottom-eject Kydex scabbard with our Low Ride MOC Straps.

Features:

 

Model Introduction:

2012

Design Update(s):

2014 - Shrike spike added

2018 - Updated to 80CRV2 steel previous 4140

Warranty: 

RMJ Tactical offers a 100% lifetime guarantee against structural failure of our tomahawks, axes and knives.  This excludes normal wear and tear.  The guarantee applies to the product and is not limited to the initial purchaser.