Survival Bracelet Single Color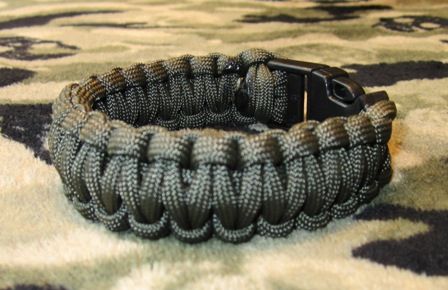 Survival Bracelet Single Color
Survival Bracelets or Ranger Bracelets as some know them actually begin with the Rangers in Vietnam. The Rangers would braid them and use a knot or button from their uniform to secure them. Some say this was for survival purposes and others that it was a way to identify other Rangers.

Survival Bracelets contain approximately 1.20' of cord for every inch of your wrist measurement. They average about 10' of cord per bracelet. The two-tone bracelets are two 5' pieces spliced together. We use a 5/8" contoured side release fastex buckle to fasten the bracelet. We have found that the countoured fastex buckle is the most secure and comfortable method to fasten the bracelet.
Most people prefer these a little loose when wearing them so keep that in mind when measuring your wrist. Also keep in mind that paracord will shrink some if it gets soaking wet. The most common wrist sizes for women are 6.5" and for men 7.5".
We custom make these bracelets by hand for each order. When ordering these please measure you wrist carefully per the instructions below and include the measurement and color you would like. Please note that these are custom made per order and that we do not offer refunds or exchanges for you ordering the incorrect size.
Sizing Instructions
Measure around your wrist where you wish to wear the bracelet with a piece of string. Make sure the string is just snug and not to tight or to loose. Measure this string on a tape measure or ruler and record that measurement. Do not add any extra for buckles or cord thickness, we do that when we make the bracelet. If you wish you may also use a cloth tape to do the measurement. If your size falls in between the sizes that we offer, order the next larger size.
Please take the time to measure your wrist and do not just guess at it, remember that we do not offer refunds or exchanges if you order the wrong size.