Treeman Recon Hunter blk/grn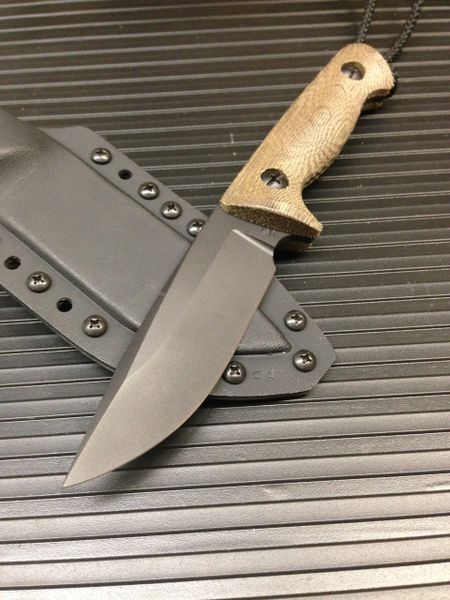 Treeman Recon Hunter blk/grn
From Treeman Knives:
As a side note, I agree this is one very nice knife, carries easy and does a great job in the field. Exceptionally well made custom knife. Grinds, balance, quality and finish are right on. Jim know how to make a knife.
This Recon Hunter, in my opinion as a knife maker and avid outdoorsman, is one of the best if not the best all around hunting knife made. We all have our favorites and this is certainly one of mine! I gave one to a good friend and guide out West, and he has used this knife non-stop for almost three years. He has gutted and caped hundreds of deer and turkeys, and he swears that this is the best knife he has ever used in over 38 years in the guide business. This will be the ultimate tool for any serious outdoorsman. The blade is 3/16 inches thick O1 tool steel vacuum heat-treated to a 56 RC. The blade measuring from the front of the guard to the tip is 4½ inches long. The hollow ground cutting edge is about 4 inches with a perfect choil and a razor sharp edge. The handle options are either G-10 or Micarta with a fine crosshatch for a non-slip grip. There is also a lanyard loop on the butt. The overall length is just over 9 inches. Recons come with either the super durable Cerakote finish or gun cote and will not rust. Both finishes are very tough and durable, and are used on a multitude of products that require a rust proof finish. It doesn't hurt that it also looks great. Sheath options are either Mosher made pouch sheath or C-4 Made Kydex, which come in a multitude of colors. If you want Kydex or a different color pouch, simply let us know. It's a great working knife that will last a lifetime with a reasonable price tag. If you don't see exactly what you are looking for, we are happy to work with you to create the perfect design.
Specs for this Recon Hunter:
Blade: O1 Tool Steel RC: 56
Blade length: 4 ½ inches
Thickness: 3/16 inches
Finish: Black
Handle:Canvas green micarta
Sheath: Black Kydex