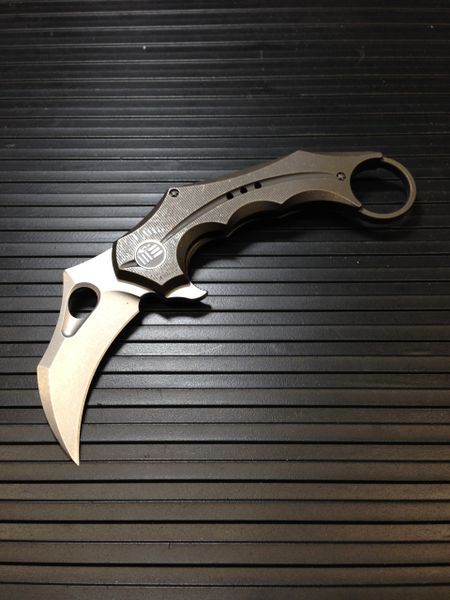 WE Karambit 708F Bronze
We Knife Company has been around the game for a long time but has only recently begun manufacturing their own designs. They started by manufacturing OEM designs for other companies and have gained a reputation in the industry as a name you can rely on. Their products are innovative, beautiful, and extremely well-built so you can rest assured you're getting a supreme quality product at a great price.

The 708 model from We Knives is their first combat karambit folder and it's a design that truly gets everything right. From the spot-on ergonomics to the amazingly fast flipping action and its exemplary looks, this might be the next go-to folding karambit. The devastating hawkbill blade measures in at 2.75", made from CPM-S35VN stainless steel with a stonewashed finish and flipper or thumb hole opening methods. The excellent handle with a one-inch pinky ring is made from milled 6Al4V titanium with a bronze anodized then stonewashed finish and bronze custom hardware. The pocket clip, full-length backspacer, screws, pivot cap, and washers are all 6Al4V titanium for maximum quality assurance and you have a replaceable lockbar insert for longevity. This is an excellent compact tactical design that we think you're absolutely going to love; it brings new looks and opening speed to the karambit market.
Specifications
Blade Length: 2.75" (70 mm)
Closed Length: 5.125" (130 mm)
Overall Length: 7.875" (200 mm)
Blade Material: CPM-S35VN Stainless Steel
Blade Thickness: 0.16" (4 mm)
Blade Hardness: 59-61HRC
Blade Style: Hawkbill
Blade Grind: Flat
Blade Finish: Stonewash
Handle Material: 6Al4V Titanium, Bronze
Handle Thickness: 0.55" (14.0 mm)
Locking Mechanism: Frame Lock
Pivot Assembly: Ceramic Bearings
Pocket Clip: Titanium (Tip-Up, Right Carry)
Weight: 4.55 oz. (129 g)
Made in China